- Online Registration Closed -
Sept 23
12 pm: Spark Macon Lunch & Learn
---
*Please bring your own lunch Monday @ Spark Macon 600 Guy Paine Rd, Macon, GA 31206 Description: Meet with the SparkMacon team and learn what you can create today! SparkMacon is Central Georgia's first makerspace and strives to be a catalyst for freelancers, startups and entrepreneurs, connecting, empowering and supporting them to build a stronger economy and community. Designed to be a collaborative workspace for a wide range of creatives, SparkMacon meets every stage of entrepreneurship, from ideation to prototyping to manufacturing, by providing an adaptable space for innovation, in-house support, as well as connections to local resources that enable them to make a living doing what they love. The space offers both classes and memberships to help with every step of the entrepreneurial journey. Think of the SparkMacon like a gym for your brain!
---
5:30 pm: Macon Magazine Evening Mixer
---
Monday, 5:30 pm @ The Rookery
543 Cherry St, Macon, GA 31201
---
---
Sept 27
8 – 8:30:

coffee and networking
---
8 am – 6:30 pm
Georgia Sports Hall of Fame | 301 Cherry St, Macon, GA 31201
8 – 8:30: coffee and networking
---
5:30 – 6

:

30

: Pitch Event
---
5:30 – 6: Pitch It Like you Mean It: Asking Others for Money
6 – 6:30: "Pitch Contest" voting on by audience | Learn More
6:30: drinks and networking
---
4 – 4:45:

Starting from

Someone Else's Scratch
---
Description:
We've all heard about franchises, but what are the benefits and pitfalls of exploring that option for your future business? Shane Gottwals will discuss how he developed the Walls of Books franchise system based on the Gottwals Books model. Then, he'll give you tips for buying franchises to help you make solid investments.
Speaker Bio:
Shane Gottwals

was born and raised in Macon, GA, attending Central Fellowship Christian Academy from kindergarten until graduation. He has a B.A. in English from Mercer University, spending a portion of his college years at Oxford University in England. He met his wife, Abbey, at Mercer University. They have four children and live in Warner Robins, GA. The couple opened Gottwals Books in 2007. Shane has extensive retail experience which has helped Gottwals Books (franchising nationwide as "Walls of Books") become one of the largest used/new bookstore chains in the United States. He is frequently asked to speak at book industry conferences, and he is a notable go-to for bookstore consulting. He currently serves on the boards of Covenant Care Adoption Services, Robins Regional Chamber of Commerce, Central Fellowship Christian Academy, and Southern Independent Booksellers Alliance.



---
3 – 3:45:

5 Things You Should Know

Before Going To A Bank
---
Description: You have your business idea and are ready to get started but you know you need a bank not just to hold your funds but also to help you handle other financial services. You may be thinking about taking credit cards or lines of credit. You may be thinking about buying a building or vehicle. No matter what there are some basic things you need to know and be ready for when you go to see a business banker for the first time. Knowing these 5 things can help you build a faster and better relationship with your banker. Speaker Bio:
Joel Ginaldi, Commercial Banker with Capital City Bank has over 15 years of commercial banking experience and has worked with many small businesses in middle Georgia to help them start and scale their business. With an understanding of the right services based on a business's direction and focus Joel has always prided himself on being partner not just a banker.
---
1:45 – 2:45:

Transitioning from

Employee to Owner
---
Description: Learn how to develop an exit strategy, and quit your 9-to-5pm the right way! From maximizing your benefits to developing your vision, learn the strategic way to transition from employee owner. Speaker Bio:
Stephanie Howard earned her M.B.A from Wesleyan College and her B.B.A with a concentration in Marketing from Tennessee State University. She has over 15 years of professional marketing and sales experience, and is highly trained in the areas of advanced marketing strategies, communication, strategic planning, project and product management, and advertising. She is also an experienced Marketing Consultant/Contractor, and serves on numerous community boards.
---
12 – 1:30: Keynote and lunch: Dr. Vernard Hodges
---
Dr. Vernard Hodges is a proud graduate of Fort Valley State University and the prestigious Tuskegee University School of Veterinary Medicine. Dr. Hodges is a founder and owner of multiple successful veterinary hospitals. He practices primarily at Critter Fixer Veterinary Hospital in Bonaire, GA. Dr. Hodges and Critter Fixer were so successful, they caught the attention of the National Geographic Channel. In January 2020, Dr. Hodges will star in a television show, called "Critter Fixers," on National Geographic Wild, which will chronicle his life at home and on the road as he treats animals, domestic and exotic. Dr. Hodges started a real estate company, which has grown to a multi-million-dollar business comprised of several apartment complexes and commercial properties. He started writing a blog about how to win by betting on yourself, which ultimately led to his writing a bestselling book: "Bet on Yourself: From Zero to Millions." Bet on Yourself reached number #1 on the Amazon Personal Finance Book list. In addition to his businesses, Dr. Hodges takes his work in the community very seriously. He started the Dr. Hodges "It Takes A Village" Charity Foundation in 2011. The Foundation was started to teach business skills to children. Dr. Hodges has won numerous awards for his business acumen and his community service. Dr. Hodges is a member of Omega Psi Phi Fraternity, Inc. He enjoys outdoor activities with his two dogs and watching sports with his 15-year-old son, VJ.
---
10 – 10:45:

Get Your House In Order

Before Getting your Business In Order
---
Description: Many times people haven't considered what they need to have ready before they begin the process of pulling their business together. Join Bethany Rogers, NewTown Macon's Director for Business and Real Estate Development, as she help budding entrepreneurs take a hard look at their personal financial house. Bethany will also talk about how NewTown Macon help entrepreneurs start and grow businesses in downtown Macon. Speaker Bio:
Bethany Rogers, PhD has served as Director of Business and Real Estate Development at NewTown Macon for three years. At NewTown, she coaches aspiring entrepreneurs and business owners with a focus on business plan development and financing, including overseeing NewTown's small business loan program. Before her work in community and economic development, Bethany earned a PhD in Cultural Geography from Louisiana State University and her academic and professional pursuits centered around community documentary and preservation work. Her writing, documentaries, and public programs have been featured in a range of contexts from academic peer-reviewed publications to a report on NPR's All Things Considered.
---
9 – 9:45:

Go & Get the Word Out: Using

Social Media

Effectively
---
Description: Properly utilizing social media can make or break a business. The complex algorithms and differing community standards can make using these platforms seem like an impossible task. Come learn valuable tips and tricks from 2 experts who have built successful careers on social media, unlock the full potential of your social platforms. Speaker Bio(s):
Nearly 5 years ago Robert Grant left his job in commercial real estate marketing to pursue a career as a Food and Travel Vlogger. Using his years of experience in traditional and guerilla marketing he built a respected influencer brand known as That Guy You Met Today or "TGYMT." As his brand gained more notoriety locally, he began to cross paths with other local influencers most notably Molly Wilkins.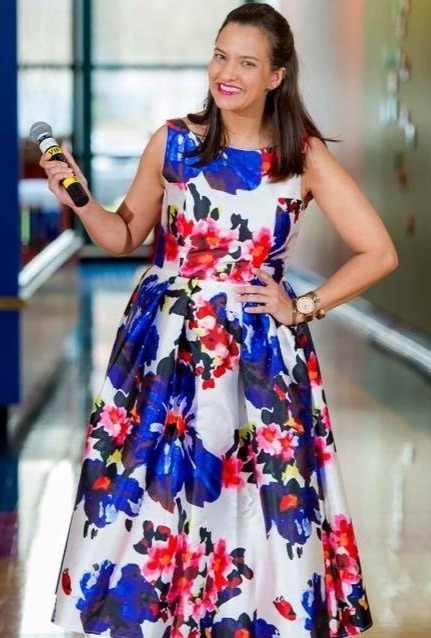 Molly Wilkins who is a Southern Culture blogger. Her brand known as Southern Bon Vivant, covers a number of topics which also include food and travel but with at distinctly southern twist. As the pair began to cross paths with increasing frequency they decided in early 2019 to join forces to create TGYMT media, an influencer and social media marketing company. With their combined experience in both traditional and non-traditional marketing they dont just connect businesses with customers, they help businesses engage audiences in ways that would have been impossible otherwise.
---
11 – 11:45:

Do As I Say, Not As I Do:

Lessons Learned

from Businesses at Every Scale
---
Description: Growing your business at every stage is tough whether it's your first hire or your 50th. Hear from three different business owners who are themselves on different stages on lessons learned and challenges they face today. Speaker Bio(s):
Susannah Maddux is passionate about connecting with the stories, causes, and people necessary to propel progress in Macon and beyond. Consistently working to listen better, foster inclusion, and create good through connectivity, she is the owner, publisher, and editor in chief of Macon Magazine since 2018. She founded Goods Public Relations in 2010, just after her arrival to Macon.

Susannah believes in the power of collaboration. A North Carolina native, she and her family are proud to call Macon home.
Shane Buerster started Z Beans his senior year of college and upon graduation opened his first coffee shop in Macon, Georgia. Over the past two years, Z Beans has developed a complex international supply chain, permitting the import of direct-trade Ecuadorian coffee, and has opened up two coffee shops and a roasting facility in Macon. Over the next year, Z Beans is committed to opening an additional coffee shop and expanding its wholesale reach.
David Barwick started Apparel Authority with David Murdock in 2010 in David Murdock's dad's basement with a 6 head EMB (commercial embroidery) machine, dreams and prayers. Even with a tough economy David just started making phone calls and survived for a couple of years. They grew out of the basement and in a warehouse on Interstate Drive then continued to grow and now are in an upgraded location on Eisenhower. Apparel Authority is an embroidery and screen printing company. They specialize in corporate uniforms, merchandise and promotional items.
---
---
Sept 24
12 pm: SBDC Lunch & Learn
---
*Please bring your own lunch Tuesday @ M&R Marketing, led by UGA's SBDC 331 3rd St, Macon, GA 31201 Description: The Small Business Development Center (SBDC) provides tools, training and resources to help small businesses grow and succeed. Designated as one of Georgia's top providers of small business assistance, the SBDC has 17 offices ranging from Rome to Valdosta to serve the needs of Georgia's business community. Come listen as Peter A. Williams discusses: Researching Your Business Plan. Peter Williams is a Business Consultant in the University of Georgia SBDC's Macon Center serving small businesses in Middle Georgia. Prior to joining the SBDC in 2013, Mr. Williams owned and successfully operated for eleven years a merger and acquisition advisory firm he founded in 2002. He previously served as Chief Financial Officer of a venture-backed Internet start-up, a principal of a private equity investment firm, and an investment analyst and manager. Mr. Williams holds a B.A. from Ripon College (in Wisconsin) and an MBA from Emory University (in Atlanta).
---
5:30 pm: Z Beans Evening Mixer
---
Tuesday, 5:30 pm @ Z Beans on Cotton Avenue
311 Cotton Ave, Macon, GA 31201
---
---
Sept 25
12 pm: NewTown Macon Lunch & Learn
---
*Please bring your own lunch Wednesday @ NewTown Macon 555 Poplar St, Macon, GA 31201 Description: NewTown Macon is the 100% focused on attracting, leveraging and investing self-sustained transformation of Downtown Macon. Part of that mission is to support entrepreneurs through a number of programs including Co-Working, loan funds and education. Come listen as Josh Rogers, President and CEO of NewTown, provides an overview of their programming and answers questions entrepreneurs may have about building and scaling business in Downtown Macon.
---
5:30 pm: Young Professionals Network Evening Mixer
---
Wednesday, 5:30 pm @ Mount de Sales (Young Professionals Network)
851 Orange St, Macon, GA 31201
New to Central Georgia or looking to get connected to the community? Then Macon's Young Professionals Network (YPN) is for you! What Is YPN? Macon's YPN is an initiative of the Macon Chamber designed to bring together young talent for not only networking opportunities, but events that allow them to engage with the community in meaningful ways, exposing them and allowing them to impact reasons why Macon is a wonderful place to live, work and play.
---
---
Sept 26
6 pm – 9 pm:

Score: 4th Annual Women's Entrepreneur Leadership Conference
---
6 pm – 9 pm | $25 Georgia Sports Hall of Fame | 301 Cherry St, Macon, GA 31201 Join SCORE Middle Georgia for the 2019 Women's Entrepreneur Leadership Conference. It will include a panel discussion from leading experts in different fields of entrepreneurship. Separate Registration | Click Here Schedule: 6:00: Registration 6:35: Welcome - Ulrica Jones 6:40: Special Guest, Nikki Porcher and Keynote Speaker, Lori Brewer 7:00: Panel Discussion 7:45: Food, drinks, and networking *InstaMagic Photobooth will be there 7-9pm Speaker and Panelist Bios:
Felicia Howard (Panelist) is the founder of Felicia's Cake Factory, LLC a licensed business specializing in custom cakes. Her journey into baking/decorating began a few years after graduating from Macon State College as a Registered Respiratory Therapist. After working 12-hour shifts three to five days a week she would use her passion for decorating custom cakes as a way to de-stress. Creating new and exciting cake designs was so much fun and after receiving requests from family and friends to make theirs, she decided to start her own business, and in 2014, Felicia's Cake Factory was born.
Gabriela Gilner (Panelist) is an Enrolled Agent, federally licensed to represent clients before the IRS, and a QuickBooks Pro-Advisor. She is the owner of Empreza Tax, LLC. She provides bookkeeping, tax, and training for business owners. Gabriela is a graduate from the University of Alabama at Birmingham with a Bachelor's degree in accounting, and she is currently enrolled in the Master's of Science in Taxation at the University of Cincinnati. Gabriela's experience includes business management, compliance, in house accounting, internal audit, and most recently, nonprofit, and accounting for small businesses. She is also the founder of Latina Empresaria Directory aim to promote Latina owned business owners in Middle Georgia. Gabriela also does community work, is a Score Volunteer, and a certified Yoga instructor.
Lori Brewer (Keynote) is the founder of LBA Ware, a software development company driving innovation in mortgage lending and banking operations. The company's mission is to inspire opportunity by delivering solutions that are essential to the way mortgage companies operate. LBA Ware strives to be a trusted partner and play a key role in their clients' success by enabling them to motivate, incentivize and better leverage the human potential within their organization. Their applications automate traditionally manual business processes for which an existing software solution does not exist, empowering lenders to create an integrated software environment that maximizes their productivity and operational efficiency.
Nikki Porcher (Special Guest Speaker), is the founder of Buy from a Black Woman. Founded in 2016, Buy from a Black Woman's mission is to spread awareness, while lending support to Black Women Business Owners. Porcher is a member of the Atlanta NAACP Chapter, The Women Chamber of Commerce, and an active advocate for several other causes. She lives out her vision with community-based classes, online workshops, webinars and
serves as a mentor.
Nikki Porcher has an academic background in business, marketing, and advertising design. Porcher also has certifications in non-profit management, yoga and meditation. She does all of this community work that comes so easily to her with a quintessential Jersey Girl flare.

---
12 pm: Score Lunch & Learn
---
* Please bring your own lunch Thursday @ Georgia Sports Hall of Fame 301 Cherry St, Macon, GA 31201 Description: Want to sell online? Then join us for an interactive session on Thursday September 26th 12:00pm-1:00 PM at the Georgia Sports Hall of Fame. This session will take place with an experienced SCORE Volunteer, Ms. Ting Zhao. Ms. Zhao is an eCommerce strategist with 20+ years of technical-functional eCommerce experience and has worked with major companies to enhance their eCommerce capabilities, including Office Depot and Rubbermaid.
---
---
September 27

th
Keynote & Main Sessions
Georgia Sports
Hall of Fame